Are you looking for an easier way to get to your blind or tree stand? Or check your trail cams and animal tracks? Or get to your hard to reach sweet spot? Trefecta offers the best solution our bikes are made to fit the needs of hunters in all terrain types.
An eBike built specifically for hunting can make a big difference to the success of your trip. And a lot safer, with the Trefecta you can still travel even without pedaling, for example in case of an injury, just use the throttle to get you home safe. The advantages of using an electric hunting bike are more than just riding uphill easier.
Originally developed with the specific demands of professional military users in mind, bringing the special forces scouts to their posts close to enemy lines quickly and as stealthy as possible without overly exerting the rider, as such the Trefecta DRT might be the ideal addition to your hunting gear.
The advantages
eBike's are much faster than walking in and out of your hunting area. With a Trefecta there's no need to strap everything to your back and go back to your campsite or car. With a cargo rack on the front and or back as well as with the optional trailer, you can throw your gear on your bike and get going, giving you ample time to pursue your favorite pastime.
On your Trefecta you are very much more stealthy and nearly undetectable compared to an ATV. Animals' work of their senses and loud noises and smells will scare off game. The electric motor doesn't sound as loud or make the amount of vibration as gas engines do, not mentioning the smell of exhaust gas it produces. So you're looking at a better chance of getting your kill faster and more efficiently with an e-bike.
Is the Trefecta DRT just an eMTB?
No it's not just an eMTB with a rugged design and camouflage print. The Trefecta is powerful enough for carrying up to 353 lb (160 kg) of rider, gear and hopefully your prey, providing enough torque to get you motoring up a 45 percent incline, and offering a 31,000-mile (50,000-km) lifespan. The bike can also fold down into an available transport case, another military stipulation.
Designed to ensure that the powerful eBike holds up under extreme conditions is possible, due to the use of high-end, durable materials like 7075 aerospace grade aluminum. The frame also protects the internal cables and components. For the wheels we capitalize on the weight and strength advantages of carbon fiber, using a six-spoke, 26-in design.
In terms of its electric drive, the Trefecta DRT packs a 4-kW motor, a 14-speed Rohlof Speedhub and a SmeshGear transmission. At low speeds, motor output is managed by a pedelec system aimed at maintaining an ideal blend of pedal assistance and battery usage. You won't necessarily want to be pedaling when going for the top speed of 43.5 mph (70 km/h), so there's also a right-handlebar throttle for cranking up motor power alone. The motor can send up to 184 lb-ft (250 Nm) of torque to the rear wheel.
Although in the world of hunting bikes speed is not an absolute imperative as most of the time you will ride the bike on rough off-road terrains that won't allow you to safely reach the higher speed, it's always good to have enough power to quickly close the distance between you and your prey.
You are able to control ride mode and other settings by using the buttons at the handlebars for example selecting automatic gear shifting or electronic gear selection and to control the settings of both the suspension fork and the rear shock.
The Trefecta is powered by a 60-volt lithium-ion battery-pack stored inside a lockable compartment in the upper front the frame. Providing enough power for up to 62 miles (100 km) of range without any pedaling. The battery charges in about three hours when plugged in, and a regenerative braking system adds some charging on the move.
Other DRT components include a big upside-down fork with up to 180 mm (7 in) of travel, a dropper seat post with up to 125 mm (4.9 in) of travel, Ergon grips and saddle, Schwalbe mountain bike tires and Hope disc brakes. The rear shock offers up to 200 mm (7.8 in) of travel.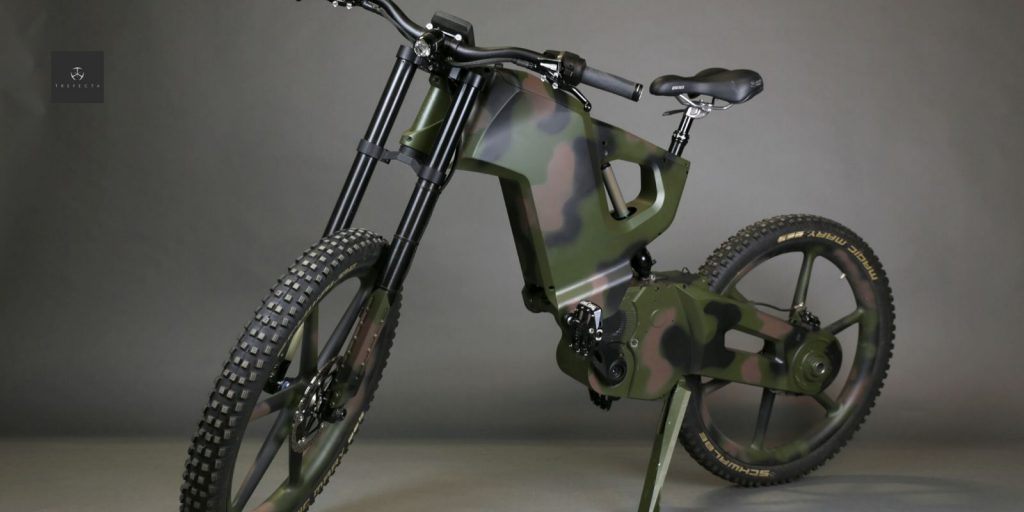 A powerful alternative, the Trefecta RDR
Looking for a more affordable version of our flagship the DRT? The Trefecta RDR also has been designed to have the capability of tackling almost any terrain thanks to sophisticated suspension, a powerful motor with an unusually large battery and the ability to carry heavy loads. But rather than the insane 4Kw powertrain fitted to the DRT, the new bike uses a 920w mid-drive motor. Whichever power output you choose there is still a 120Nm of torque available. The frame is made of high-pressure injection-molded aluminum with a welded aluminum TQ 120s rear powertrain with Gates CarbonDrive and a step less Enviolo IGH.
Hunting and the Trefecta eMTB's: a perfect match
Whether you are following a trail, silently want to check hunting cameras on the trail and access areas farther than you'd walk to, you need something to help you to quickly traverse rough and difficult terrain. With the Trefecta you get all this coupled with a powerful motor, incredible range, and the ability to haul your kill back to your truck. An offer no serious hunter can say no to.
Interested? Or in need for more information? Don't hesitate to contact us directly and send an email to info@TrefectaMobility.com